HealthDay.si 2017, Lateral approaches to innovation in healthcare - event report
Lateral is different!
On December 6th, 120 of us gathered in MAO, and it was educational, inspiring, partly even controversial, but all in all pleasant and encouraging.
HealthDay.si, Slovenian ECHAlliance ecosystem exists, because of two reasons. Firstly, because of encourages of Slovenian ecosystem stakeholders, towards implementing innovations in Healthcare, and secondly, because of expansion of Slovenian knowledge in international space.
We are certain, that we went another step further, towards our common goals, with this event. Reminder on that, was given by Marjana Majerič from Technology park Ljubljana, co-founder of HealthDay.si.
Introductory speaker, Haim Gil-Ad from company NovellusDX and also an active initiator of cooperation between Israeli companies, taught us about what a scientifically backed Health Startup needs, to conquer the world. Haim showed that on his own case, and what is more, he organized a workshop for selected companies, one day before our event, where he gave the key questions to each one of them.
We continued with Joao Pita Costa, who gave us in-depth overview of global mass data usage for detection of population health. Next was Anže Droljc with detailed presentation of recognition of EMRAM 6 for Pediatric clinic in Ljubljana, and Vasja Bočko with first presentation of new globally oriented company Iryo.si in Slovenia. The common denominator of all presentations is that with the right attitude Slovenians can equally perform on the global stage, whether it is Vasja's presentation in British parliament, Anže's and Marand's contribution to putting Slovenian hospital into 50 most advanced hospitals in Europe, or Joao's and Quintelligence's long-lasting partnership with global media houses, starting with Bloomberg.
After a healthy and juicy break, we continued with the most engaging part. First was Vesna Dolničar from Faculty of social sciences, otherwise long-term partner of our ecosystem. Vesna presented the project ITHACA and a Survey about Slovenian ecosystem of Healthcare. HealthDay.si is inviting all the interested to answer the Survey, your 15 minutes will help us all.
15 minutes of your time will mean a LOT for the next few years of work of our ecosystem. We kindly ASK you for your contribution.
Next was Jana Šimenc from ZRC SAZU with critique on often to much one-sided consideration of innovation. Her lecture was understood as emphasis on important aspect of threats and obstacles, which are awaiting us on the path from idea to usage by patients. Katja Koren Ošljak presented qualitative research on users of the healthcare system, where she emphasized significant differences in needs and expectations of patients, depending on the role in which they are. Anita Jacović from Ministry of Health, presented the proposal of the new Long-term care Act, from the aspect of opportunities for innovators.
After this came the "small" round table of three interlocutors from area of social care. First was Matjaž Juhart from Association of Deaf and Hearing Society of Slovenia, who presented special difficulty of deaf people in comparison with the rest of disabilities, but still commended the success of medicine in removing deafness among youth, with ear implants. Akos Eder, representative of Hungarian Pannonia Business Network, was next. He presented social innovations in the countryside in West Hungary. Last in this segment was Ana Pleško from Simbioza, with presentation of new Simbioza BTC City Lab center, where every workday, in basement of Hall D in BTC, different modern technologies for active life and help for the elderly are presented.
After a light and healthy lunch, which once again, was made by social company Center Kontura with their Gostilna Dela, it was time for round table with four journalists, Milena Zupanič from Delo, Lucija Petavs from Medicina Danes, Vesna Tomaževič from Pharmonia and Anja Gorenc from STA. Conversation was interesting and has enlightened the other aspects of innovation, the one holding the quills which inform Slovenian professional and layman audiences about news in healthcare. The conversation and the whole event was moderated by Gregor Cuzak.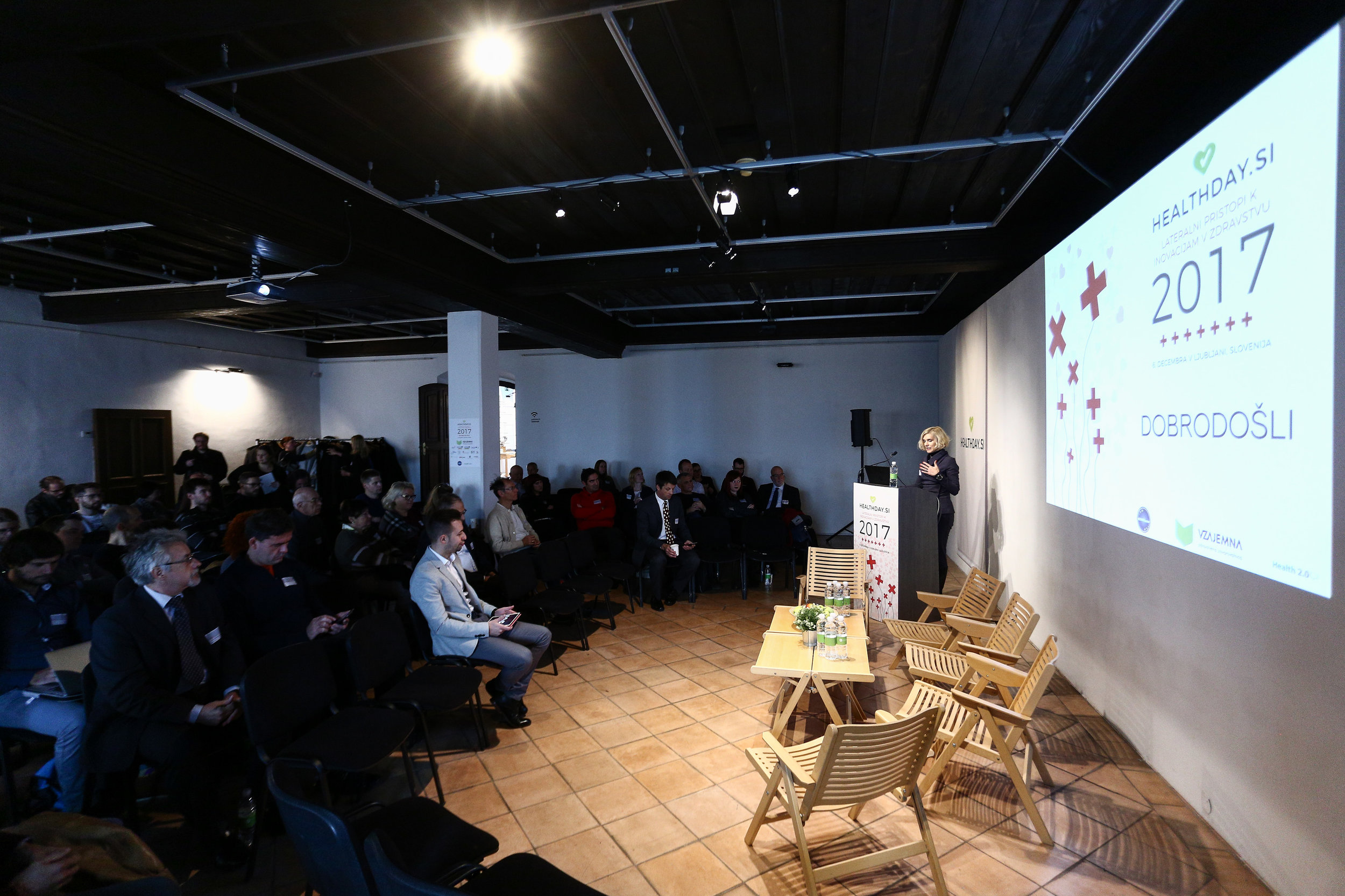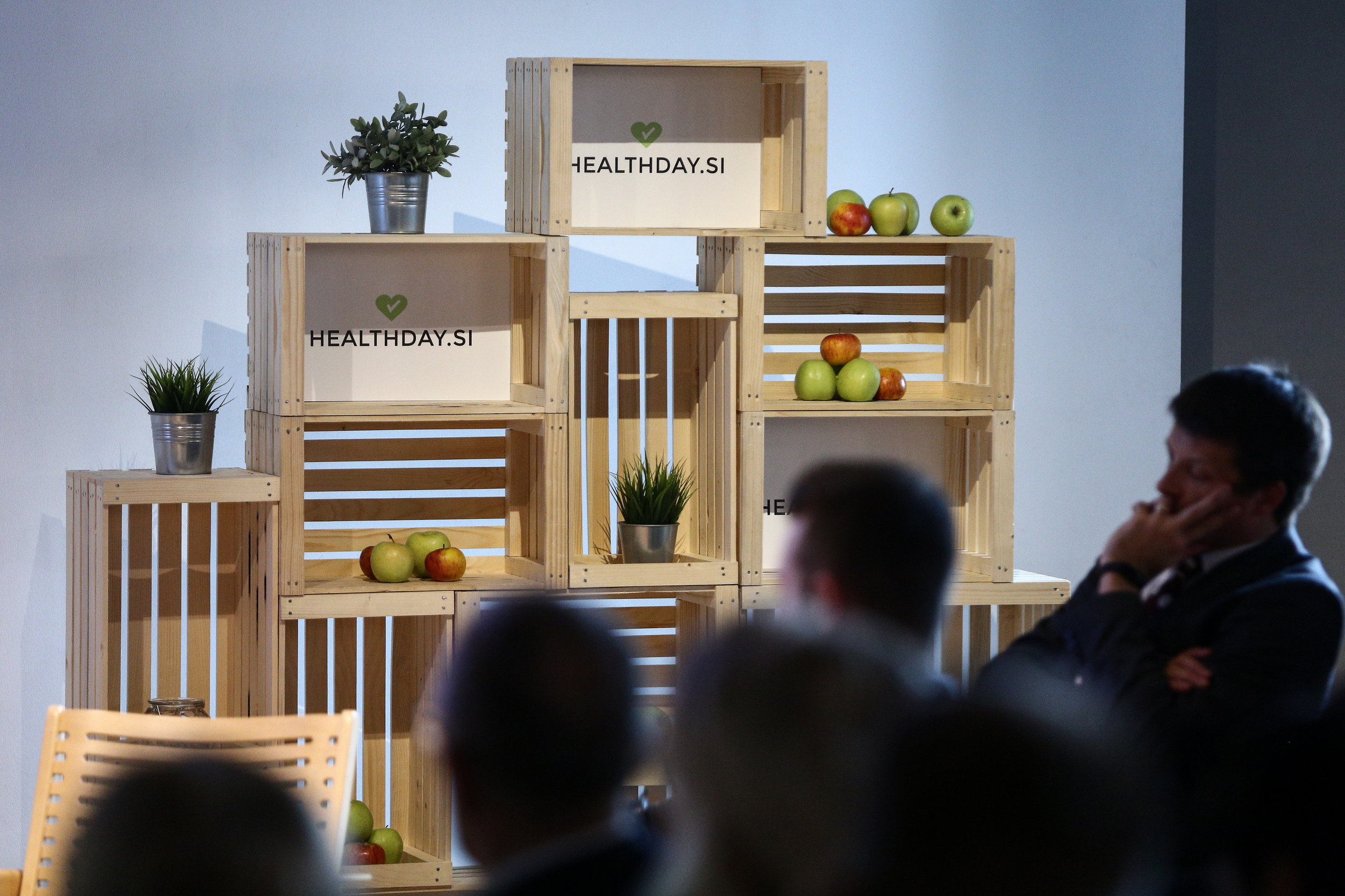 HealthDay.si is organised by:
We are proud partners of: